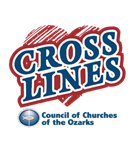 We talked with Tom at Crosslines about things going on with Crosslines.
Crosslines is the primary food pantry serving our community.    Crosslines is seeing a large increase in the numbers of families needing food assistance due to the crisis.  In the month of March we saw at 65% increase over the same time period last year in the number of families coming to Crosslines, 2,260 families.
Crosslines is asking for the community's help with both financial donations and in-kind items.
* Mac & Cheese,  Tuna, Canned Vegetables and Fruits, Pasta, Peanut Butter and Jelly, Soups, etc.
Financial gifts can be made online at Crosslines.org or calling the pantry at 417-869-0563.
If you are in need of food assistance click here,  and click on the food request menu.  Normal pantry guidelines apply and you must have a working telephone number so we can contact you with questions or when your food is ready.  Crosslines understands the importance of staying at home during this time, Crosslines will deliver food to Springfield residents if requested.
Crosslines also has a special ask to restaurants and other food establishments that may have been forced to close or downsize due to the COVID-19 crisis to consider donating their perishable and non-perishable foods to Crosslines.  Your gift is tax deductible and would go a long way to helping Crosslines meet the needs in our community.
Crosslines is also collaborating with many other organizations in the community during this Crisis.  They are currently collecting donations of pet food for the Southwest Missouri Humane Society.  Please make sure it is in good packages and free of contamination since it will be stored in the Crosslines food warehouse.
The Diaper Bank of the Ozarks is in need of diapers all sizes, especially size 5 as well as financial donations.  We can accept open packages of diapers too.
All donations can be received at the West Doors at Crosslines between 9am and 3pm.