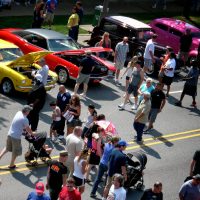 WEEKEND UPDATE FOR  Aug  9-11
FRIDAY   
The Birthplace of the Route 66 Festival and Car Show on the Park Central Square 10 am to 10 pm. Live music, vendors, food motorcycle village, parade of cars and trucks and music.  FREE for spectators
Family Fishing Night from 6-9 pm at Rutledge Wilson Farm. Bring the family for a relating evening     of catch and release fishing. Enjoy the cow train, bounce house and bonfire. $5.00 per participant
Cardinals Baseball – first pitch at Hammons field is 7:10 against the Arkansas Travelers. Fireworks- tickets still available.
SATURDAY
The Birthplace of the Route 66 Festival and car show 6 am to 10 pm on Park Central Square and other downtown venues. Classic car show, a 6.6 K Run/Walk starting at 7 am. Door prizes Free admission to spectators.
Mid-States Wrestling at the Relics Events Center on W. Battlefield. Wrestling begins at 7 pm – 10 pm   $15-$30
RK Gun and Knife Show 9 am to 5 pm at he Ozark Empire Fairgrounds. Admission $12 for adults and 4 dollars for  kids 6-12
Paper Shredding event at LaTour Advisory group 2627 W. Republic Road from 8 am until 11 am.  Shred your papers on the spot.  Old checks, bank statements, medical papers etc.
Cardinals Baseball against  the Arkansas travelers first pitch 6:10 at Hammon's field
Kids in the Kitchen- learn to make back to school snacks at Hyvee- 11 am to noon. Class entry $10.00
Back to school ice cream social at Cowden school 2927 S. Kimbrough from 2-4 pm. Games, prizes and frozen custard for the family