Friday October 4, 2019 – 7:00pm at Welk Resort Theatre in Branson, MO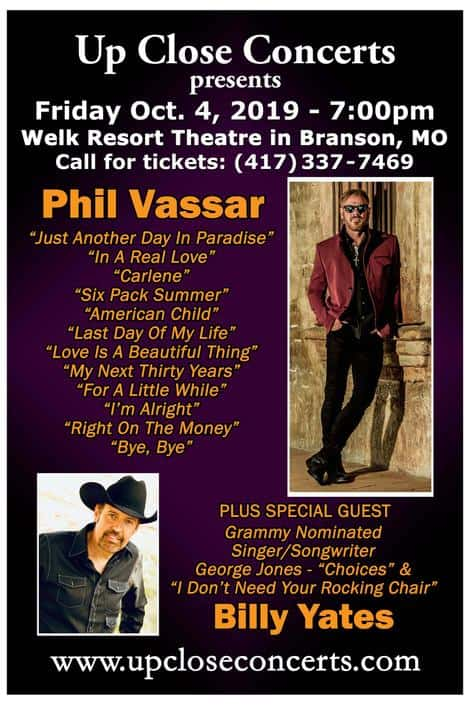 105.1 The Bull and Up Close Concerts presents an amazing entertainer who has a huge number of hits as a performer AND songwriter. For the first time ever on our stage, please help us welcome Phil Vassar.
Phil's success as both a worldwide star performer and prominent songwriter makes him a rare and powerful combination in the music industry. On October 4, Phil Vassar will be performing all of his incredible hit songs and will definitely keep you entertained all night. Take a look at the poster below for just a small selection of his music.
And we are going to crank up the hit music another notch! Opening the show for Phil is another gentleman who knows how to write a #1 song, Billy Yates. Billy will be performing an acoustic set prior to Phil and his band taking the stage. This will be a FUN night!
The VIP Pre-Sale is this Thursday May 16 from 10:00am – 5:00pm by calling the box office at (417) 337-7469. Tickets are just $35 and $40 + tax, but when you mention your Pre-Sale password PARADISE, all seats, including Premium seats in the front center section, are just $35 + tax. This discount is available during the Pre-Sale only. Tickets go on-sale to the public at the regular price on May 17.