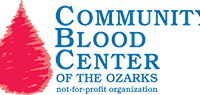 Give blood at a CBCO donor center on Wednesday or Thursday and receive a FandangoNOW movie voucher
 The Community Blood Center of the Ozarks (CBCO), the sole supplier of blood and blood products to over forty area hospitals, is giving blood donors the opportunity to catch some great gifts just before the 4th of July holiday during the Movie Mania Blood Drive. The drive will be held on Wednesday and Thursday, July 1 & 2, at CBCO's Springfield Donor Center on south Campbell at Plainview Road. Donation times are 8:00 am to 6:00 pm each day.
Donors that give during the Movie Mania Blood Drive will receive a FandangoNOW movie pass, which allows you to watch a first run movie from the comfort of your own home. Donors will also receive a CBCO throwback T-shirt and a five-dollar gift card redeemable in the LifePoints online store.
Appointments are strongly encouraged for this drive to achieve an optimal donation experience. To make that appointment, go to www.cbco.org/moviemania.
All Blood types are needed as we go into the Holiday weekend.  The Movie Mania promotion is only available at CBCO Donor Centers.  Give Blood today at the Community Blood Center of the Ozarks.