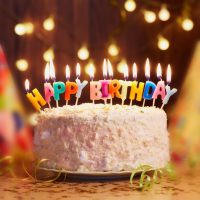 Applebee's: Woo hoo free dessert when you sign up for email.
Arby's: A birthday surprise?  Sign up to get coupons
Baskin Robbins: Free scoop of ice cream when you sign up for their email.
Dairy Queen: How about a buy one get one?  Join the Blizzard Fan Club and get a BOGO coupon on your birthday
Denny's: Great deals on breakfast favorites– Sign up for the Denny's Rewards program
Family Video: Look on S. Scenic Some locations offer a free DVD or game rental on your birthday.
Joe's Crab Shack: A free appetizer when  joining the Joe's Catch newsletter.
Panera: Free stuff when you  sign up for Panera Rewards.  
P.F. Chang's: Free appetizer or dessert in your birthday  month sign up for P.F. Changs Preferred.
Red Lobster:  Get some coupons- make sure you sign up at least 7 days before your birthday.
Red Robin: Yummy burgers- get  a free burger when you register as Red Robin Royalty.
Starbucks: Need a free coffee drink? Get a coupon  when you sign up for Starbucks Rewards, register 30 days in advance.
Ulta Beauty: Coupons and a birthday surprise. Sign up for Ultamate Rewards