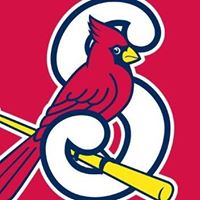 WEEKEND UPDATE FOR  April 12-14
FRIDAY
Christian County Library Spring Book sale 8:30 am-5 pm at the Ozark Branch. Proceeds benefit activities and events funded by Friends of the Library.
Scavenger Hunt in downtown Springfield. Every heart you find is a chance to win a $100 gift card & prizes! 8 am to 5 pm. FREE
Springfield Cards VS Northwest Arkansas Naturals- first pitch is 7:10- It's Fireworks Friday! Ticket prices vary
Battlefield Mall Easter Bunny photo op begins at 10 am and all weekend long
Teen Friday night at the Library Station- open for kids in grades 6-12 starting at 6 pm. Activities, crafts, and fun. FREE
SATURDAY
Tom Watkins Park Annual Egg Hunt from 11- 3pm.   2100 W. High St, Free for ages 1- 12 years.
Easter at the Farm 10 am to 2 pm at the Rutledge-Wilson Farm Park. More than 20 thousand eggs filled with candy and prizes. FREE but some activities charge a small fee
Logan Rogersville -FFA Benefit Auction begins at 11 am at the Bass and Ballard Feed and Farm Supply. Live and silent auction. Proceeds go to the SAE Scholarships and annual Washington Leadership Conference.
Early Day Gas and Engine and Tractor Swap meet at the Ozarks Steam Engine Association at 7175 W Farm Road 170 in Republic. Open 7 am to 5 pm.  Free admission.
Springfield Cardinals VS Northwest Arkansas Naturals. Game time is 2:10. Tickets still available.
Join John Kimmons at the Happy Trails RV center from 11-1 pm.
Come See Summer Stevens at the Showcase Ozark/Taste of Ozarks  starting at 9 am at the Ozark OC!
Fair Grove Project Graduation Run, Car and Bike Show 10 am to 5pm at the Foxhole American Legion Post 676 at 2350 N. Clifton. Food, live music and more everyone is welcome