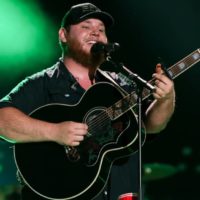 Fellow North Carolinian Kelly Kirk tweeted Luke Combs for help purchasing school supplies for her classroom.
Hi @lukecombs! I wanted to reach out and see if you wanted to support an Appalachian Alumni with her teacher Amazon wishlist! I teach kindergarten in NC and could use some help with #clearthelist. Appreciate the support! #Amazon #TMobile #supportateacher https://t.co/LA4JK0LvoX pic.twitter.com/eFPqM1DtI3

— Kelly Kirk (@kelly_kkirk) August 8, 2021
https://platform.twitter.com/widgets.js
Kelly Kirk, a teacher at Raleigh's Wakefield Elementary School, used Twitter to recruit a few celebrities to assist her this year in purchasing school supplies for her classroom. Teachers — particularly those in underfunded schools — are using social media for help to buy supplies they'll need to teach their students as part of the #CleartheList social media campaign. Art supplies, building materials, animal figurines, and other items were on her wish list.
The reply she received from Luke?
Cleared it for ya. Good luck to your students and GO APPS! https://t.co/SAGlpEktIL

— Luke Combs (@lukecombs) August 8, 2021