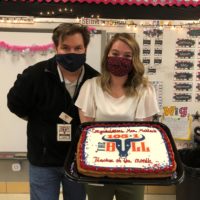 Congratulations to Mrs Matlock, kindergarten teacher at Willard North Elementary. She is our 105.1 The Bull March teacher of the month. We received an amazing nomination for her.
Mrs Matlock receives $50 Gift card from Pinegar Chevrolet, $50 Gift card to Flat Creek $100 Gift card to Apple Market a family four pack of passes to the Dickerson Park Zoo and one of our 105.1 The Bull Teacher of the month Coffee tumblers.
She was nominated by Whitney Paszek who told us, "She is an amazing teacher. This is her first year teaching she is excelling. My daughter loves her. She is so helpful, kind, caring. She is a first year teacher and has a little boy. She would be so so appreciative"
We talked with her on 105.1 The Bull.