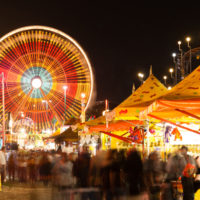 Weekend Update for  July 31-Aug.2
FRIDAY                                                                                                                                       
Ghost Tour at Pythian Castle- Tuesdays, Friday, and Saturday. Good for kids ages 8 and up and an 8 Person minimum for the tour. The tour begins at 8 pm until 9:30 and its 15 dollars per person.
Ozark Empire Fair- Bull 105.1 Country favorite Riley Green is in the Grandstand
Water Color USA is open at the Springfield Art Museum! Hours are 10 am to 8 pm daily and runs thru August 16. FREE
Deep in the Heart of Tuna-Springfield Little theater! Two Friday night shows. 7:30 pm and 10 pm.  Seating chart will be used- Masks required! Tickets $20-28 dollars
Historic Walking Tour History Museum on the Square 2-3 pm. $10.00
Golf and mini golf business are open!
Concert on the Couch at 7 pm! In the Spotlight: Tracy Byrd
SATURDAY      
Ozark Empire Fair opens at 11 am- Don't forget your Mask!
Deep in the Heart of Tuna-Springfield Little theater! Two Saturday night shows. 7:30 pm and 10 pm.  Seating chart will be used- Masks required! Tickets $20-28 dollars
Farmers Market Saturday from 8 am-1 pm at Farmers Park  
Historic Walking Tour History Museum on the Square 10:30-11:30 am. $10.00
Farmers' Market open at Battlefield and Glenstone, 8 am until 1 pm