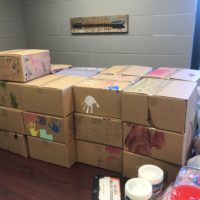 This past Christmas we sent "Shoeboxes" to soldiers through our annual Operation Elementary Shoebox. We have received some letters back from soldiers that received our packages this year.
John,
My Battalion of 1100 Soldiers received packages today, one if which I
received with an amazing note from Kolton and Ella. Soldiers are extremely
thankful for the amazing support that we receive from home. Being deployed
for periods up to nine months can be tiresome, but, when we receive packets
from it brightens our day, and today was different. The looks on my Soldiers
faces as we handed out the boxes and the emotion I felt as I opened mine can
only be equaled by me going home. But, as we go home another unit will
replace us , and so on. So, I am thankful for you, the teachers and
especially the students across the Ozarks.
Again, thank you for your support!
v/r,
Jefferey L. Gross II
Command Sergeant Major
Dear John,
First off, on the behalf of the 1st Calvary, 154 Composite Truck Company, I would like to that you and all for the care packages we've received. My name is Private First Class Gogo, Luke. I am a Wheeled Vehicle Mechanic, and have served in the United States Army for roughly two years. This is my first deployment in the middle east. I've received the care packages, and opened them with the expressions and feelings of gratitude and kindness. Having known these packages were made by the children makes me miss my daughter even more. I've been in the middle east for about five months and a few more to go. Your kindness and as well as the children of Springfield MO has shown us motivation to keep pushing. The picture attached is myself as well as to the right of the picture, PFC Bui, Quan. Once again, Mr. John, thank you and thank you to the kind children of MO!!
GOD BLESS,
Pfc Gogo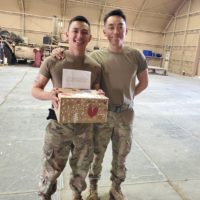 Good day Mr. Kimmons,
Thank you for the awesome box the program puts together! See attached for a picture of me holding it outside my "office."
I am currently in Kuwait and am part of the 142nd Combat Sustainment Support Battalion; our job is to move any type of equipment or supply needed by other Soldiers. We move food, water, vehicles, fuel, really, anything you think a Soldier may need! We even move things for other Services!
My specific job is being in charge of anything that has to do with communications for our teams. We communicate using radios across short and long distances. We also use special equipment to connect to satellites and get internet service to anyone, pretty much anywhere we go! When we work in our "offices" my team is in charge of making sure computers, phones, printers, TVs, and video teleconferencing systems work. I really like it!
One of my favorite things to do while being deployed is opening mail from home. I love my job, and would do it even if I didn't get mail, but having letters from children in school really makes it better!
I got three awesome cards in this box. One was a pop-up, accordion card with Army camouflage! One was a purple card with a cool American heart drawn on it! Neither of these had a signature.
The third was a letter written by Ryan; it was very funny! I liked the drawings he added, too. It made me laugh so much, I have shared it with several of my friends.
Thank you again! The support is greatly appreciated!
If you would like to keep up with what our unit does, please feel free to follow our unit's facebook page: https://www.facebook.com/142DCSSB/
V/R
Gabriela P. Lepe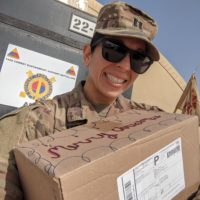 Good morning Mr. Kimmons,
Thank you and your entire class for the care package. It made my day to receive every item.
Percy Almeida
Hello, students of Price Elementary
Thank you for your packages, My Name is SPC Hudgens, I am stationed out of JBER Alaska. Currently at Bargram Afghanistan. You package arrived safely. We appreciate your letters from Hayden, Josie, Emma, Kylessa, Karis, Matthew. On behalf of 98 SMC we thank for you letters and gifts
Thank you,
SPC Hudgens
Mr. Kimmons,
I hope this finds you well. The soldiers in my unit have been thoroughly
enjoying the holiday gift boxes filled with letters and treats from the kids
that participated in your program. I wanted to reach out directly and say
thank you!
Many of us are parents, and the letters from the 4th graders both reminded
us of our kids and cracked us up! Thanks for supporting the troops!
V/R,
1LT Galgana
Alan Galgana