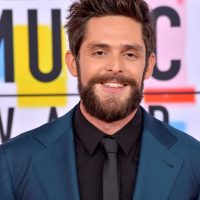 Thomas Rhett has two new Christmas songs one is an original "Christmas in the Country" and his version of "The Christmas Song".
He wanted to do the songs now with his kids both being young and at home.
He says that some of their traditions come from individual families, like "opening one gift on Christmas Eve, getting new ornaments for the Christmas tree".
His wife Lauren wants a real tree…he would like to have at least one fake one.